by JASmius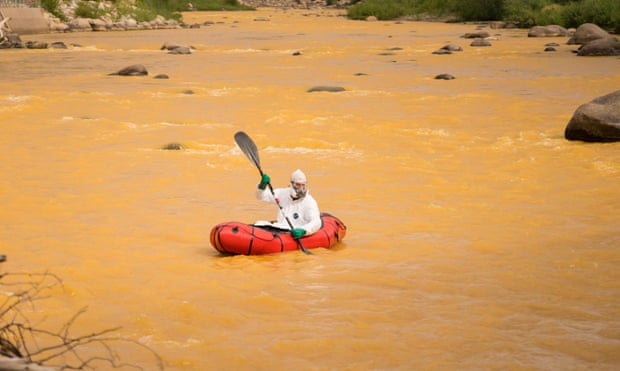 The Environmental Pollution Agency
strikes again
:
An EPA crew working at the Standard Mine above Crested Butte has triggered a spill of wastewater into a creek.

Crested Butte Mayor Aaron Huckstep and staffers for U.S. Representative Scott Tipton said Thursday that about two thousand gallons of wastewater spilled late Wednesday during work at the mine.

EPA officials could not confirm the incident, and National Response Center contractors in Washington, D.C. did not yet have a report of the spill. An EPA congressional liaison officer could not be reached, and EPA public information officials said they were working on a statement.
Yeah, this "accident" was 1,800 times smaller than
the Animas River spill
two months ago. But still, the famous Montgomery Scott adage, "Fool me once, shame on you; fool me twice, shame on me" comes to mind. Or, put another way, we're starting to see a pattern develop.
In more ways than one
:
"Once again the EPA [Environmental Pollution Agency] has failed to notify the appropriate local officials and agencies of the spill in a timely manner." These are the words of GOP Congressman Scott Tipton of Colorado's Third Congressional District in response to another toxic spill resulting from EPA activities at an abandoned mine in western Colorado.

According to the Denver Post, an EPA mine crew working Thursday at the Standard Mine in the mountains near Crested Butte, triggered another spill of some two thousand gallons of wastewater into a nearby mountain creek. Supporting Tipton's remarks to Watchdog Arena, the Denver Post report states that the EPA had failed to release a report about the incident at the time of its writing.
They didn't "fail to release a report; they never made or composed one. And they never made or composed a report because they triggered this spill deliberately, just like the last one, in order to frame, go after, and ruin another mining company. That's the only factor missing from this story, but I guarantee you that's the other shoe waiting to drop, because that's the endgame in this newly minted EPA extortion racket.
Or, as it's called in the legal profession, "rainmaking".
At least this time, the wastewater is "only" gray instead of Tang-orange. Even if it will give crusted butts to the citizens of Crested Butte.