by JASmius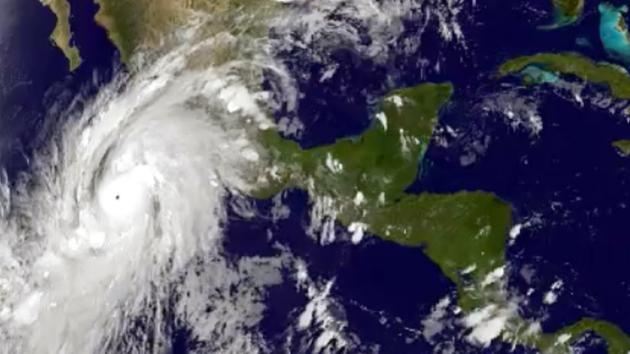 I'm just guestimating, but if the above pic is accurate and indicative, Patricia is so big that the storm would reach from the U.S. Pacific coast to the Mississippi River.
Holy bleep.
Or perhaps I should say
mierda santo
:
Monster Hurricane Patricia rumbled toward Mexico's Pacific coast on Friday, growing into the strongest storm on record in the Western Hemisphere as the country braced for a potential catastrophe.

Authorities relocated some villagers, closed ports and schools, and urged tourists to cancel trips as the hurricane headed toward landfall in the western state of Jalisco later Friday.

"It's a devastating hurricane, the biggest since we can record hurricanes, and this is why we have to take extreme precautions," Interior Minister Miguel Angel Osorio Chong told Radio Formula.

Rain pelted the coast after Patricia mushroomed late Thursday into a Category Five storm - the top of the Saffir-Simpson scale -- with maximum sustained winds of 325 kilometers (200 miles) per hour, according to the U.S. National Hurricane Center.

The center said on its website that Patricia was "the strongest hurricane on record in the National Hurricane Center's area of responsibility which includes the Atlantic and the eastern North Pacific."
Forecasts show that Patricia will make landfall somewhere between Manzanillo in Colima state and Jalisco state's tourist resort of Puerto Vallarta, which Mexican officials fear could face a direct hit.
I don't know where the Love Boat is right now, but if I were Isaac, I'd call Captain Stubing to the bridge right about now.