Every week
Constitution Radio with Douglas V. Gibbs
gives you hard hitting constitution and political news, and this Saturday will be no different. . . but during the first part of the program we are going to shift gears as we prepare for the Christmas Season.
Author David N. Brodmann will be joining us to discuss his new book: 'Once upon a Promise'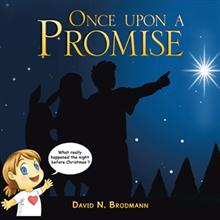 I highly suggest you add this book to your Christmas list as one to buy for yourself, and various loved ones.
A local writer, David's book, "Once upon a Promise" is a retelling of a classic poem that creates a truly engrossing opportunity for the family. The reading of this book should become a tradition for your family every Christmas. Curl up by the fire, fill the cups with hot cocoa or eggnog, and enjoy the poetic prose of a tale that centers around a father sharing with his children the story of love and of a promise made a long time ago. It is about truths and sharing those truths with everyone.
Readers will find themselves not only being entertained by a wonderful story and its illustrations but also being challenged by the most important of all questions, "Do you believe?"
"Once upon a Promise"
By David N. Brodmann
http://www.amazon.com/Once-upon-Promise-David-Brodmann/dp/1504933923