by JASmius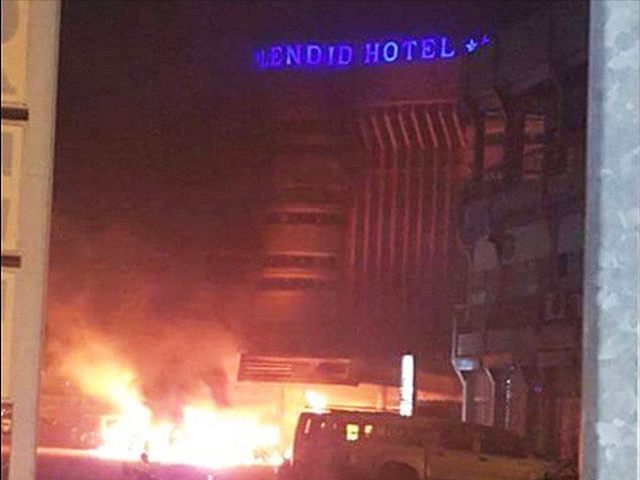 Just another day at the jihadist office
.
I'm not quite sure why
al Qaeda is so focused in on West Africa of late
, but I suppose they have to keep themselves and their "brand" in the game in some fashion:
At least twenty people have been killed and others were being held hostage Friday in an ongoing Al-Qaida attack on a hotel in the capital of Burkina Faso popular with United Nations staff and westerners.

A fire raged in the main entrance of Ouagadougou's four-star Splendid hotel and screams could be heard from inside as Burkinabe forces prepared an assault to rescue hostages still trapped five hours after the assault began.

Officials said French forces could join a counter-attack on the hotel, while a US defense official said Washington would potentially provide surveillance.

The attack comes less than two months after a jihadist hostage siege at the luxury Radisson Blu hotel in the Malian capital Bamako in November, in which twenty people died including fourteen foreigners.....

Al-Qaida in the Islamic Maghreb (AQIM) claimed responsibility for the attack, according to U.S.-based monitoring group SITE.
There's no word yet on the nationalities of the fatalities, casualties, and hostages, but if there are Americans, we can count on AQIM crowing about it to the depths of hell.
This was only their most prominent attack of the day, however; nobody can call AQIM lazy, that's for sure:
The Burkinabe army meanwhile revealed that an armed group had carried out an attack earlier in the day near the border with Mali, killing two people.

"In the afternoon around 2:00 p.m., around twenty heavily-armed unidentified individuals carried out an attack against gendarmes in the village of Tin Abao," the army said in a statement, adding that an officer and a civilian had been killed and two people were wounded.

Several attacks have taken place in Burkina Faso in recent months, but no such assaults had yet hit the capital.

In April the Romanian security chief of a mine in northern Tambao was kidnapped in a move claimed by Al-Murabitoun, a jihadist group run by notorious Algerian militant Mokhtar Belmokhtar.
I think I liked these assholes better when they were holed up in Afghan caves. Now they're gaining ports on the Atlantic to go with ports on the Mediterranean and the Arabian Sea and the Red Sea and the Persian Gulf and the Indian Ocean and so on (looking at the overall big picture). It sure looks like we had them down, our heels on their throats, at the end of the Bush Administration and then let them up, turned them loose, and gave them nuclear weapons thanks to Barack Obama, and now there's not a place on the planet that they haven't infested.
Think about that the next time you check into a hotel. What you receive in complimentary fashion is liable to not be a pillow mint.