by JASmius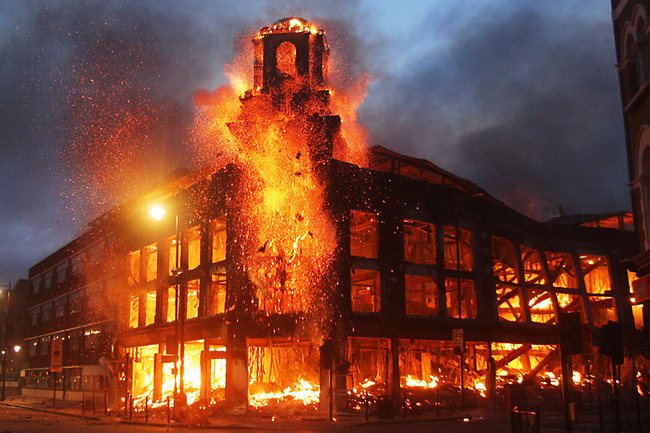 I would imagine that C-town was experiencing buyer's remorse when
#BlackLivesMatter vowed to shut down the quadrennial Republican festivities almost a year ago
. There's nothing like communist revolutionaries waging full-scale war against law enforcement trying to fight their way into Quicken Loans Arena to bludgeon and kill as many GOP delegates and officials as inhumanly possible. But at least until #BLM smashed their way into the building, the proceedings inside (absent any massive explosions from IEDs) could unfold in at least a semi-normal fashion for the national television audience.
But with Trumplicans coming to Cleveland
ready to riot themselves
, there could be as much mayhem inside QLA as outside (
minus guns
and IEDs). Full scale war outside, full scale war inside.
That isn't exactly the story the Mistake By The Lake wanted to host
:
Cleveland envisions its Republican National Convention in July as an opportunity to show off its re-invented self and bury memories of default, industrial demise and a mayor who accidentally set his hair on fire.

Thanks to Donald Trump, Cleveland's first nominating convention since 1936 might not be the customary coronation and infomercial, despite a $64 million corporate fundraising pledge and $50 million in federal assistance to assure all goes smoothly.

"This has the potential to be very, very good for the city," said Stephen Loomis, president of the Cleveland Police Patrolmen's Association. "It also has the potential to be very, very bad for the city."

The prospect of a fight for the Republican nomination, bolstered by Trump's warning of riots if he doesn't get the nod, has evoked memories of raucous conventions from long ago when backroom deals by kingmakers often determined the nominee. Those featured fistfights on arena floors and, in Chicago's 1968 Democrat gathering, violent street disturbances that stained the city as images were broadcast worldwide....

"For Cleveland, the name recognition and having a chance to tell the turnaround story of downtown brings the potential reward of changing perceptions of the city," said Ned Hill, an Ohio State University economist. "If it turns out there is blatant Trumpism in the streets, then the good news story will disappear."
Welcome to blatant Trumpism, Cleveland....
Man, the Sixth City just cannot catch a break, can it?