by JASmius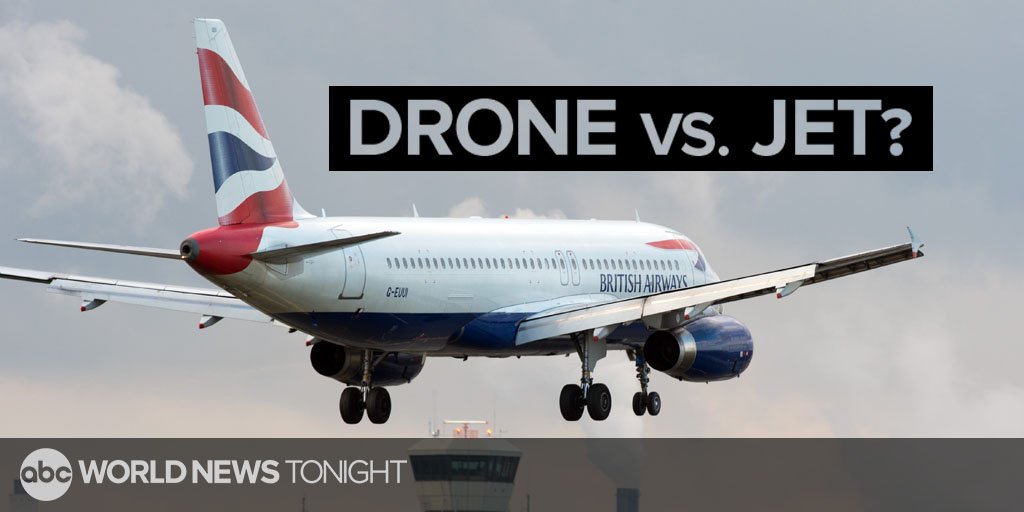 British authorities haven't yet determined if this was a deliberate terrorist attack or merely an accident
. The plane and its 132 passengers landed safely at London's Heathrow Airport, but the incident has raised freshly heightened concerns about drone ubiquity:
A British Airways plane was hit by a drone on Sunday while landing safely at London's Heathrow Airport, launching an investigation and renewing calls to curb the use of the unmanned flying vehicles, reported the Telegraph.

It's believed to be the first time an airliner was struck by a drone at Heathrow and immediately raised concerns about their use by terrorists.

The pilot told authorities that an object hit the airliner during its approach. The flight from Geneva carried 132 passengers and five crew members, said the Telegraph.

"Whether this turns out to be related to terrorism or not it is just one more Illustration of the enormous challenges facing out anti-terror agencies daily," counter-terror expert Colonel Richard Kemp told the Sun. "We know terrorists have for a long time sought to use drones to visit violence on innocent people and it [is] a very real threat."

Kemp a former commander of British forces in Afghanistan, said he was "deeply alarmed" about drones flying so close to commercial aircraft.

"Frankly it was only a matter of time before we had a drone strike given the huge numbers being flown around by amateurs who don't understand the risks and the rules," said Steve Landells, flight safety specialist for the British Airline Pilots Association.
If this was a terrorist attack, then (1) it's a wonder it hasn't happened before now, and (2) it obviously was not competently carried out if all the pilots heard was a "BONK!" the the airliner's normal landing was unaffected. If it was something out of a Benny Hill skit where Fred Scuttle is out playing with his new drone at the end of a Heathrow runway, then that skit wasn't very damned funny.
Drone size could play some role in how dangerous a mid-air impact would be, but where the impact took place would be the overarchingly determinative factor. The two most obvious points of vulnerability would be the cockpit canopy and the jet engine intakes. The former wouldn't necessarily be critical, since the pilots would presumably still be able to keep the plane stable by instruments only, but the latter would damage or functionally destroy an engine, and that could be highly dangerous depending on where the engine was on the plane.
But in terms of the non-terrorist accident scenario, the biggest omission is one of common sense. Which is to say, what kind of idiot does it take to not know any better than to send a drone whizzing around near a bloody
airport
? Sure, "accidents happen," but even a rudimentary level of prudence and thought could go a long way in minimizing them.
Said a British Civil Aviation Authority spokesman yesterday:
Drone users have to understand that when taking to the skies they are potentially flying close to one of the busiest areas of airspace in the world – a complex system that brings together all manner of aircraft, including passenger aeroplanes, military jets, helicopters, gliders and light aircraft. Anyone operating a drone must do so responsibly and observe all relevant rules and regulations.
Wouldn't seem that difficult a task, would it? But that's not the world we live in - even when the drone pilots are not deliberately attacking.