by JASmius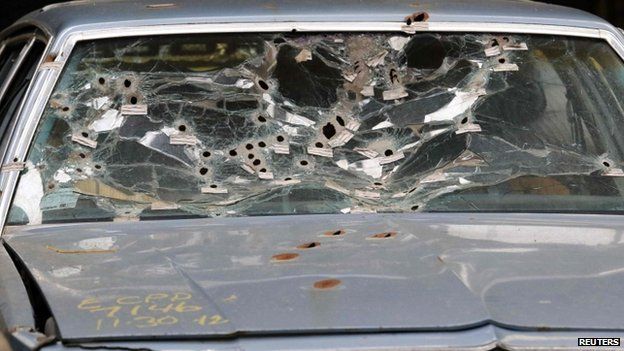 First and foremost, may I say -
Holy crap
:
After a nearly hour-long explanation, including reiterating all wounds to Malissa Williams and Timothy Russell, Judge John O'Donnell found Officer Michael Brelo not guilty of voluntary manslaughter in their deaths.
Brelo was also found not guilty of felonious assault in the 2012 deadly police chase and shooting. …
In other words, Officer Brelo was overcharged.
But get a load of this story:

On November 29th, 2012, Cleveland Police Officer Vasile Nan thought he heard a gunshot while he was outside of his cruiser on St. Clair Avenue near the Cuyahoga County Justice Center, and pursued a blue car. The resulting police chase lasted twenty-two minutes, and involved more than sixty police cars and more than a hundred officers. It stretched through downtown Cleveland, into the Tremont neighborhood and at high speeds on Interstate 90 before ending at Heritage Middle School in East Cleveland.

In the school parking lot, thirteen Cleveland officers fired a total of 137 shots at Russell's 1979 Chevrolet Malibu. Investigators from the Ohio Bureau of Criminal Investigation said forty-nine of those shots came from Officer Brelo's Glock-17. His final fifteen shots were fired from the hood of the suspect's car. [See the pic above]

According to the Cuyahoga County Medical Examiner's Office, Russell suffered twenty-three gunshot wounds and his passenger, Williams, was shot twenty-four times. [emphases added]
Oh, my GOD. It's just like Jean Luc-Picard mowing down Borg drones in the holodeck in
Star Trek First Contact
:
"I think you got him!", indeed.
And the punchline?
Neither Mr. Russell nor Miss Williams was armed
. The "gunshot" that Officer Nan heard outside the Cuyahoga County Justice Center? It was Mr. Russell's 1979 Chevrolet POS backfiring. And from that came a police chase of
Cannonball Run
proportions and a hail of hot lead of "Shock & Awe in Baghdad" proportions. I daresay Mr. Russell and Miss Williams had more holes in them than the Bugs Moran gang did after the
St. Valentine's Day Massacre
. All because their old beater hiccuped at the wrong time and place, and a handful of cops panicked, stampeded a horde of their colleagues into a wild stampede, and, as President Grant said of James West in
Wild Wild West
, "Shoot first, shoot later, shoot some more and then when everybody's dead, try at ask a question or two".
You'll notice that I haven't mentioned that Officer Brelo is white and Mr. Russell and Miss Williams were black. Mostly because by this point I really don't have to, but also because it ought to be completely irrelevant. The issue here is the CPD went bleeping berserk, not in any pathological, murderous sense, but out of fear that overwhelmed their professional duty and procedures and indicated grievous unfitness for the job. Had the charges against Officer Brelo been proportionate to what could be proven from the evidence - especially given that his defense specifically requested a bench verdict in lieu of a jury trial since, in the present national mob rule/race war environment, there's no way in Cuyahoga that he could have gotten a fair adjudication of his case - he'd have been convicted, and maybe, just maybe, there'd have been a chance of Cleveland not exploding.
But now? Ho boy. Let's add this up: An unarmed black couple not just shot, but turned into chocolate Swiss cheese by not just one police officer but an entire horde of them (how many where white and how many were black, Hispanic, etc. is anybody's guess, but it was the most trigger happy cop that was charged, and he was whiter than rice), AND the accused officer is completely acquitted, AND in a non-jury trial. No wonder Judge O'Donnell plaintively begged, "The verdict should be no cause for a civilized society to celebrate or riot".
Unfortunately, we're not a civilized society anymore. Which is why Cleveland is gonna burn.
Exit question: I wonder if they can rebuild The Mistake By The Lake in time for it to be burned down again by the leftwingnut attack on the Republican National Convention? Chicago's 1968 "Days of Rage" were nothing compared to next summer's conflagration.