by JASmius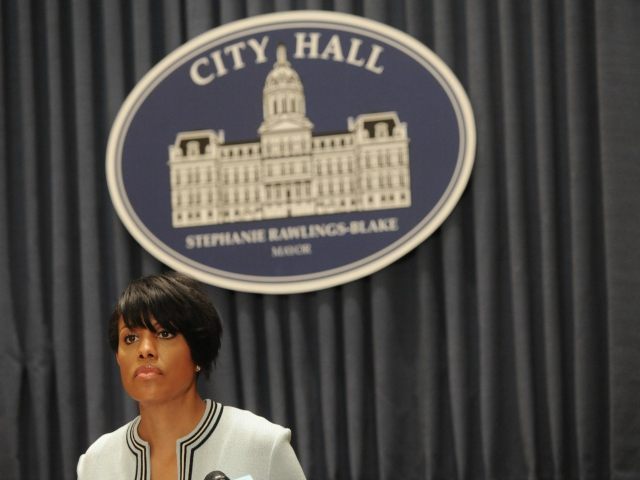 Am I the only one who is shocked and stunned at
this development
? I figured after the way she let the rioters and looters run wild last spring and shut down the Baltimore PD and lavished over six million dollars on Freddie Gray's family, Stephanie Blake would be riding to reelection unopposed on the shoulders of grateful and worshipful "Charm City" voters, black and white alike. (Notice I didn't say "Democrat and Republican alike, as there aren't any Republicans in any big American city).
You know why I think Mayor Blake is bowing out? She knows the "Baltimore Six" trials are not going to go well for her side, and she doesn't want to be caught in the flaming undertow of the next, bigger riots to come:
Mayor Stephanie Blake, "beleaguered" by the death of Freddie Gray and the protests and rioting that followed, will announce at 10 a.m. today that she won't seek re-election, The Baltimore Sun has learned.

Blake, forty-five, wants to focus on preparing the city for the upcoming trials of the six city police officers involved in Gray's arrest and death, sources close to the mayor say. She briefed her Cabinet and staff this morning, and has no plans to seek another office.
Her realization that the upcoming trials, marred and mocked by State Attorney Marilyn Mosby's ridiculous show-trial/star-chamber overcharging to sate the insurrectionary lynch mobs, are unlikely to yield the results they both seek must have come recently and abruptly, because until not very long ago, she was full-speed ahead for another term:
The mayor abandons her re-election campaign amid a growing field of Democrat challengers in the April primary, including former Mayor Sheila Dixon, State Senator Catherine Pugh and City Councilman Carl Stokes.

She spent recent months ramping up her campaign by building a field organization in the city, hosting fundraisers and courting voters with events such as "Mondays with the Mayor" at local bars and restaurants.
Do any of you find that first paragraph as depressing as I do? You can change the name of the black Democrat on the Mayor's office door, but the racist, cop-hating policies aren't going to change one jot or tittle. The only way for Baltimore to get a true and genuine "fresh start" is to elect <GASP> a Republican to the "Charm City" mayoralty.
Maybe even a white one
.
Regardless, the riots are coming again to The City That Burns Well. Fortunately for Stephanie Blake, they'll be somebody else's problem, even though she was one of their prime architects.