by JASmius
So this is what one chowerheaded play call over seven months ago hath wrought: Instead of opening at home against the Pittsburgh Steelers before a national NBC TV audience, dropping another Super Bowl championship banner and getting a bit of belated revenge on the team on whose behalf the NFL screwed Seattle out of a third Lombardi trophy ten years ago, the Seahawks open quietly on the road....in
St. Louis
....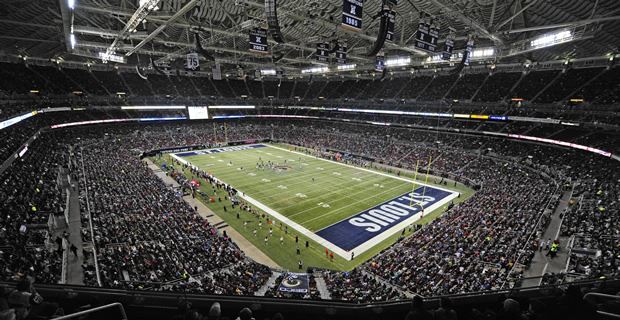 ....for a
morning
game. Historically, Seattle has never played very well on East Coast time, and while that weakness has largely disappeared during the current Era of Awesomeness, that brings us back to the Edward Jones Dome, a house of horrors where, for whatever reason, the almost-two-time-World Champs always struggle against the otherwise lowly Rams.
You think the parity-mad NFL wants to ensure that we stumble out of the gate 0-2 with a trip to revenge-is-a-dish-best-served-cold-seeking Green Bay next on the calandar?
Defensive tackle
Brandon Mebane elaborates
on that inflated crypt:
St. Louis' Edward Jones Dome is a dark, indoor stadium that has in recent years regularly ranked towards the bottom of the NFL in average attendance.

"It's like you're in the Twilight Zone," Seahawks defensive tackle Brandon Mebane said Thursday. "It's kind of hard to describe."...

"It's real tough to play there," Mebane said. "The lights are real dim. The crowd is real small. It's just real quiet out there. It's 10 o'clock in the morning, so we try not to be too sleepy. We've got to wake up and we've got to go."

The Seahawks may be playing in front of a larger crowd than normal in St. Louis since it is the season opener, but Mebane still expects to have to adjust to the atmosphere.

"We have to find a generator and turn the lights up bright like it is right now," Mebane joked. "We know the situation, how it is there. We've got to tell the younger guys who haven't been there. We've just got to come out and play football. We've just got to come out and play like we're at home."
Easier said than done. The 'hawks lost there in 2012, and should have lost in 2013 (a 14-9 victory they only survived because the Rams missed an earlier fourth quarter field goal, which would have made their last-minute drive into the red zone a chipshot game-winning field goal instead having to get into the endzone). Last year
a rare and spectacular collapse on special teams cost Seattle a game they should have won
.
And today? Well, we've got Jimmy Graham and our pass rush back, while the Rams have two rookies starting on their offensive line, rookie running back sensation Todd Gurley is on injured reserve, and new quarterback Nick Foles is a potted plant. Plus we've got speedburner rookie Tyler Lockett to turn the tables on the Rams' special teams kick coverage. So I think we've got this.
We might not have the best strong safety in the league for much longer
, though.
Straight up picks indicated by asterisk (*); picks against the spread in parentheses (x). And no, don't bet the farm on these picks; they're just for my amusement and your aggravation. Or vice versa. We'll see how it turns out, now, won't we?
Baltimore
Denver* (-4.5)
Carolina* (-3)
Jacksonville
Cincinnati* (-3.5)
Oakland
Cleveland
N.Y. Jets* (-3)
Detroit (+3)
San Diego*
Green Bay* (-7)
Chicago
Indianapolis* (-2.5)
Buffalo
Kansas City (+1)
Houston*
Miami* (-3.5)
Washington
New Orleans
Arizona* (-2.5)
N.Y. Giants
Dallas* (-6)
Seattle* (-4)
St. Louis
Tennessee
Tampa* (-3)
~~~~~~~~~
Minnesota* (-2.5)
San Francisco
Philadelphia* (-3)
Atlanta