by JASmius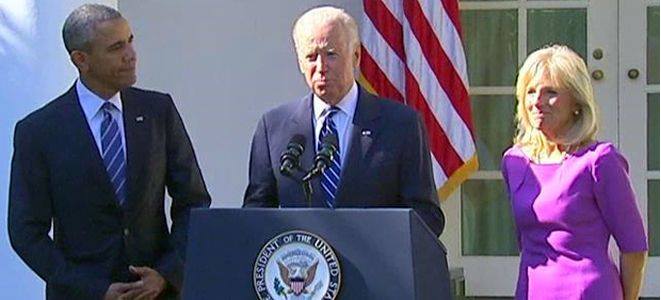 He's out
- other than in a contingency sense:
Vice President Joe Biden won't seek the Democrat presidential nomination in 2016, ending months of deliberation and speculation and clearing the path for Hillary Clinton.
Or Bernie Sanders, who still leads her in Iowa and New Hampshire.

The long process of grieving over the death of his son Beau has closed the window on any chance of mounting a presidential campaign, Biden said in a hastily arranged announcement from the White House Rose Garden with Barack Obama and his wife, Jill Biden, at his side.

"I couldn't do this if the family wasn't ready. The good news is the family has reached that point," Biden said. "Unfortunately I think we are out of time."
And he dithered so long that he made that conclusion almost a self-fulfilling prophecy.

Biden's decision clarifies the choice before the party's voters even as [Mrs.] Clinton faces a challenge from Vermont Senator Bernie Sanders and two other Democrats in the race who are trying to position themselves as an alternative to the former [Commissar] of State.
And so, barring any other "dramatic" developments, for the Dems it's 2004 all over again: Either the openly communist candidate of their hearts who will lose in a landslide (Howard Dean then, Bernie Sanders now) or the phony candidate of their heads who will lose by a smaller and more respectable margin (John Kerry then, Hillary Clinton now) - unless the Trump takeover of the GOP succeeds, in which case, the Nightmare will come true.
But
Eeyore has an interesting additional theory
:
For an "I'm not running" speech, he sure did go on and on at the podium — and sounded a lot like a candidate in doing so. I think this is more of an "I'm not running, unless...." speech, actually: Just in case the DOJ shocks the world by indicting Hillary or another scandal blows up in her face, Biden's letting Democrats know that he's a solid Plan B. In case of emergency, break glass and vote Joe.
And such a scenario would arise much sooner than it would later.
Stay tuned.