by JASmius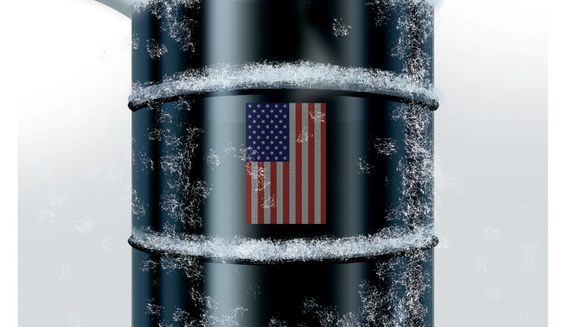 See, this is what happens when the Toxic Avenger goes on vacation for a month - his minions start losing their utopian focus and drift back toward logic, rationality, and reasonableness:



The federal government on Monday gave Royal Dutch Shell the final permit it needs to drill for oil in the Arctic Ocean off Alaska's northwest coast for the first time in more than two decades.

The Bureau of Safety and Environmental Enforcement announced that it approved the permit to drill below the ocean floor after the oil giant brought in a required piece of equipment to stop a possible well blowout....

"Activities conducted offshore Alaska are being held to the highest safety, environmental protection, and emergency response standards," agency Director Brian Salerno said in a statement Monday. "We will continue to monitor their work around the clock to ensure the utmost safety and environmental stewardship." [emphasis added]


I hope Salerno is updating his resume while he's at it, because he's probably going to be back in the job market in the near future. Either that, or Shell must have paid one honking big bribe and/or tribute to win release of this quarter-century embargo.

The Sierra Club is squawking as one would expect, and will immediately sue to and succeed in blocking the Chukchi project. They were probably caught off guard by the Regime giving Royal Shell the, er, "green" light.
-
Me, two months ago
And now, two days ago,
the Regime atoned for that greenstremist "sin" by double-crossing Royal Shell and the entire energy industry and pulling the Arctic plug
:
The Interior [Commissariat] announced Friday it is canceling future lease sales and will not extend current leases in Arctic waters off Alaska's northern coast, a decision that significantly reduces the chances for future Arctic offshore drilling.

The news follows a September 28th announcement by Royal Dutch Shell that it would cease exploration in the Chukchi and Beaufort seas after spending upward of $7 billion on Arctic exploration. The company cited disappointing results from a well drilled in the Chukchi and the unpredictable federal regulatory environment.
Which is to say, the company cited the
entirely predictable
anti-energy federal regulatory environment.

Interior [Commissar] Sally Jewell said the federal government is canceling federal petroleum lease sales in U.S. Arctic waters that were scheduled for 2016 and 2017.
Over one dry well in an area with proven petroleum reserves of over twenty-six BILLION barrels. That's not an explanation, it's a pretext for doing the greenstremists' bidding and Barack Obama following his baser instincts as "the president he always wanted to be". Just as with
his party's delusional belief that gun confiscation will be a winning issue for them next year
, Dems believe that forcing Americans back into gas lines and skyrocketing pump prices and utility bills is what the electorate is demanding and clamoring for. The bitter irony being that
it isn't as though those twenty-six billion barrels of crude aren't going to be tapped and extracted and burned
, unleashing all the mythical "climate damage" their fevered imaginations conjure. Those foregone natural resources will just benefit other (and enemy) countries, while the U.S. sinks back into energy dependence and even greater economic and national security peril.
Just as Barack Obama planned.
I'll say it again: Still think Barack Obama is "incompetent"? Lazy and inattentive, sure, but he still knows exactly what he does, and what it will do to us.