by JASmius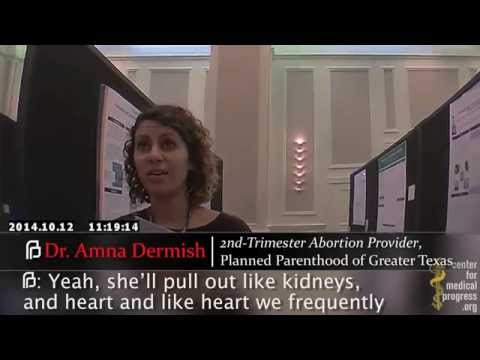 Only one more installment in this film franchise and it'll match
Star Trek
(if you count the two execrable J.J. Abrams reboots, which I don't) and soar into the rarified air of the Marvel Cinematic Universe. And the best (or worst) part is that
PPC
, unlike any other movie series, will never run out of "creative" material.
And there's no necessary hurry. It's been six weeks since
the previous sequel
.
Less, as they say, is more
:
The eleventh video release from The Center for Medical Progress in the ongoing Planned Parenthood baby parts scandal shows the aborti[cian] for Planned Parenthood in Austin, Texas, Dr. Amna Dermish, describing a partial-birth abortion procedure to terminate living, late-term [babies] which she hopes will yield intact fetal heads for brain harvesting.
Dr. Dermish admits she was trained by the Senior Director of Medical Services at Planned Parenthood Federation of America, Dr. Deborah Nucatola. Nucatola described a partial-birth abortion technique to harvest [baby] organs in the first Planned Parenthood video released July 14th by CMP.

"My aim is usually to get the specimens out pretty intact," says Dermish, speaking to actors posing as a [baby] tissue procurement company. Dermish admits that she will sometimes use ultrasound guidance to convert a second-trimester [baby] to a feet-first breech presentation: "Especially the twenty-weekers are a lot harder versus the eighteen-weekers, so at that point I'll switch to breech."

"That's what Deb [Nucatola] was telling us, was it really makes a difference for tissue collection at PPLA," says one of the actors, referencing Nucatola's technique for organ harvesting. "It's really nice when it's, yeah – I trained with her," replies Dermish. …

Dermish does not use the chemical digoxin to kill the [baby] before twenty weeks, so her feet-first, intact extraction abortions are done on living [babi]es. Using ultrasound guidance to manipulate the [baby] from vertex to breech orientation before extracting the yet-living [baby] is a hallmark of the illegal partial-birth abortion procedure (18 U.S.C. 1531). [emphases added]
Does Planned Parenthood have "clinics" at Auchwitz or Dachau? I've always wondered.
Please do note the seven minute mark -
Captain Ed's favorite
- where "Dr." Dermish and a ghoulish colleague squeal over how "cute" are the hearts of nine-weeks-gestation babies like Paris Hilton and the Kardashian sisters shopping Rodeo Drive for earrings. I imagine PP hawks them in their gift shops as commemorative knick-knacks and keeps a full bowl of them at their front desks like Halloween candy.