by JASmius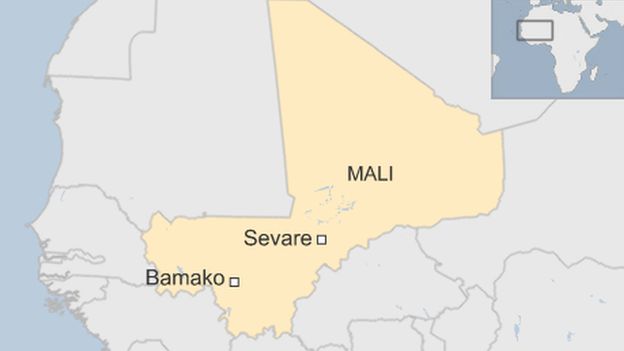 The "religion of peace" beat goes on
.
I guess al Qaeda is trying to keep up with its ISIS devilspawn:
Islamist gunmen stormed a luxury hotel packed with foreigners in Mali's capital Bamako on Friday, taking 170 hostages in a former French colony that has been battling rebels allied with al Qaeda for several years.

A senior security source said some of the hostages had been freed after being made to recite verses from the Koran. The French newspaper Le Monde quoted the Malian security ministry as saying at least three hostages had been killed.

The raid on the Radisson Blu hotel, which lies just west of the city center near government ministries and diplomatic offices in the former French colony, comes a week after Islamic State militants killed 129 people in Paris.

The identity of the Bamako gunmen, or the group to which they belong, is not known.
Does it matter? Surely their shouts of "Allahu Akbar!" should be sufficient, don't you think? Or the fact that only hostages that could recite Qu'ranic verses from memory were released? Although I do have to point out that if this were ISIS, the hostages that had memorized the Qu'ran would have been rewarded with not being horribly slaughtered, while those that could not would have been summarily beheaded.
I also am compelled to note that this jihadist op isn't in France but merely a former French colony, so it isn't even close to what ISIS pulled off a week ago. Which makes the fact that a number of Americans are among the 170 hostages suck for them, since massacring Americans - probably on video - is the only thing that can really make a big splash of this attack.
Unfortunately for AQ, it appears as if
Western special forces got there first
:
U.S. special forces were helping in the effort to rescue hostages at a luxury hotel in the Malian capital on Friday and at least six Americans were rescued, a Pentagon spokeswoman said.

"Special Operations Command Forward-North and West Africa personnel are currently assisting hostage recovery efforts at the Radisson Blu Hotel in Bamako," Lieutenant Colonel Michelle Baldanza said. "US forces have helped move civilians to secured locations, as Malian forces clear the hotel of hostile gunmen."

The State Department said six Americans were recovered from the hotel, adding that the U.S. embassy in the African nation is working to verify the information.
Still, eighteen people died in the attack. It is not yet known if any Americans were among them.
A White House statement insisting that the attackers are ABSOLUTELY NOT Muslim is doubtless imminent.
UPDATE: We should have seen the Mali attack coming, given
what Commissar of State Spincter-Mouth blurted last night
:
We're confident that if we stay steady, and our heads in thinking creatively but also being strong and committed to our fundamental value, we're going to defeat Daesh. We began our fight against al-Qaeda in 2001 and it took us quite a few years before we were able to eliminate Osama bin Laden and their leadership and neutralize them as an effective force. So hopefully we will be able to do Daesh much faster than that.
Any other president would have resigned in disgrace and embarrassment already. These f***kers are still taking "victory" laps, stepping on rakes with each strutting stride.