by JASmius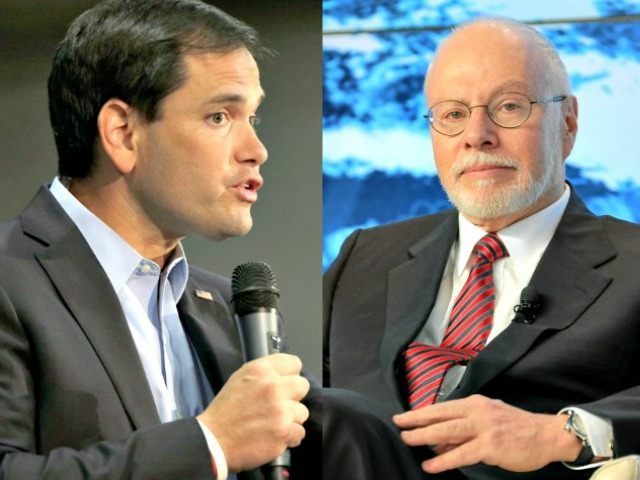 And everybody knows between these two men which is the figurative "pitcher" and which is the "catcher". Needless to say,
evangelical and pro-family groups are less than entirely thrilled
:
The news last week that Paul Singer, billionaire Republican fundraiser and unabashed advocate of s[odo]marriage, will support Marco Rubio for president has drawn mixed reviews from State and national pro-family activists.

As Rubio rises in State and national polls, new scrutiny is being made of his positions and supporters.

A billionaire hedge fund manager, Singer has been a major GOP donor – and has made quite clear that his priority issue has been support of [homosexual special] rights in the Republican Party. Singer and his network of donors have steered millions to GOP candidates at the federal and State level who backed s[odo]marriage.
Sounds like the debauched, diseased mentality that, I'm told on good authority, has already completely taken over the California GOP.

In a 2013 interview with the Washington Post, Singer explained his position: "I believe marriage equality is critical to the future of individual liberty and the strength of the American family, and the Republican Party should stand for both." [emphasis added]
Wiping out the institution of marriage - i.e. the divinely-ordained union of one man and one woman for life as the basis of procreation and the family unit, which in turn is and has been the fundamental building block of human civilization for thousands of years, AND which is what homosexual "marriage" infiltration is clearly designed to do -
damages
the individual liberty of everybody else - most particularly evangelical Christians - who do not wish to participate in or otherwise have anything to do with it, as the Christian cake-bakers, photographers, caterers, wedding planners, justices of the peace, and Rowan County Clerk Kim Davis can amply and horrifyingly attest. That's not marriage "equality," it's "marriage"
superiority,
domination, and destruction.
I don't pretend to understand how Singer links putrifying marriage with strengthening the American family other than that he's hell-bent on "redefining" and eradicating the latter as well.
And he has taken on young Senator Rubio as his "young apprentice".
But then that isn't really all that shocking when you
turn back the calendar four months
, in the immediate aftermath of the SCOTUS's horrible
Obergfell
ruling, where he reiterated his abstract claim to believing that marriage ought to be between a man and a woman but came out in support of
Obergfell
and against amending the Constitution to reverse it and legally define marriage according to the definition he says he believes in. I don't know that I would say that this is a donor-candidate match made in hell, but I don't see Singer writing huge checks to Ted Cruz or Mike Huckabee, either.
A lot of socons are "concerned":
But other social conservatives are concerned about Singer's embrace of Rubio.

"It certainly raises a question that ought to be addressed by Senator Rubio," said Colin Hanna, head of Let Freedom Ring, a traditional values organization....

[V]eteran cultural conservative leader Paul Caprio of the Chicago-based Family-PAC voiced concern about Singer's endorsement of Rubio.

"This could certainly hurt Rubio with a lot of social conservatives," Caprio told Newsmax. "Singer wants to be influential in the platform [of the GOP national convention]. We know the radical position he comes from and that he uses his resources to advance it."

In 2012, for example, Singer raised more than $250,000 to help four embattled Republican State senators in New York who cast decisive votes that resulted in [impos]ing [sodo]marriage [o]n the Empire State.

Sandy Rios, director of government affairs for the American Family Association, strongly seconded Caprio's view.

"It would be a high bar indeed to expect presidential campaign donors to match a candidate's position on every issue," Rios told Newsmax. "But when a donor like Paul Singer isn't just inclined to support [sodo]marriage, but has orchestrated the implementation of it with his millions, it should be of grave concern to social conservatives when that support is thrown behind Senator Marco Rubio."
And it should be of even graver concern when Senator Rubio claims to be a socon himself and then bends over and grabs the ankles for whatever sugar (bowl pie) daddies come along to fill up his campaign coffers.
Exit question: Would Rubio be the second "gay president"?