by JASmius
Read it and literally weep
. Or crap your pants. Whichever works best for you:
The U.S. military intended to "destroy every truck" during a second wave of attacks on ISIS-controlled oil tankers in Syria this weekend, Army Colonel Steven Warren, spokesman for the U.S. "coalition" "fighting" the insurgents said Tuesday, but they ran out of ammunition first.

"The desire was to destroy every single truck there," Warren said at a news briefing, where he played video of ISIS fuel tankers either being shot by machine gun fire from the air or being bombed, reports CNSNews.com.

All of the trucks were targeted, Warren said, showing a video with "the good shots that you'd like." [emphasis added]
Apparently we
didn't
run out of warning leaflets, though.
In the words of Volstagg....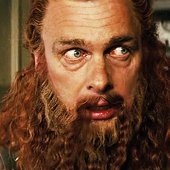 ...."We're doomed".