by JASmius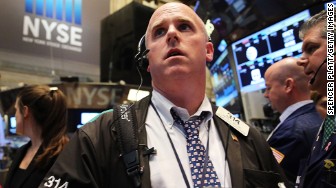 Of course, in reality no real jobs have been created since Barack Obama first took power, and the economy has remained mired in the economic depression brought about by the Democrat Financial Logic Bomb ever since. A bleak reality papered over by the enormous blizzards of "quantitative easing" wastepaper pouring out of the zero-rate Fed over that same period of time, pumping up a supremely distracting stock market bubble that has just been awaiting its puncturing to pancake in a financial cataclysm that will make 1929's "Black Friday" look like a miniscule blip. A series of Fed interest rate boosts is that needle, and now "Old Yellen" has wielded it, just in time to provide The One with the Final Crisis for him to exploit to declare himself President For Life.

Will quarter-point jumps be enough to blow down the Obamanomic house of cards, or will the upward trend be enough all by itself? Does it matter? The Fed can always boost the increments as next year unfolds, whatever it takes shatter the crumbling remains of the U.S. economy once and for all.
-
Me, forty eight hours ago
The Assholiated Press is going to
blame this stock market crash downpayment on this, that, the other, ghosties and beasties, the heartbreak of psoriasis, the agony of defeat, George W. Bush
, ANYTHING and ANYBODY but the real, core, principle cause. And so they did:
Stocks plunged across all sectors in the heaviest trading of the year Friday as enthusiasm over a long-awaited increase in U.S. interest rates faded. [emphasis added]
Quite the contrary, it's fear over the long-awaited increase in U.S. interest rates, and it's escalating.

Several other negative factors combined to give the market its second big loss in a row, bringing the indexes lower for the week. [emphasis added]
Two days since the Fed signaled economic Armageddon, two consecutive extra large stock market declines. Coincidence? Hardly.

Bank stocks, which investors had bid up in hopes they would become more profitable as loan rates climbed, fell the most. Technology shares suffered more declines as a bad December got worse for Apple. The world's most valuable publicly traded company sank again, bringing its monthly loss to 10%....

The Dow Jones industrial average dropped 367.29 points, or 2.1%, to 17,128.55. The S&P 500 index fell 36.34 points, or 1.8%, to 2,005.55. The Nasdaq composite sank 79.47 points, or 1.6%, to 4,923.08. All ten Standard & Poor's Five Hundred sectors fell. [emphasis added]
Like with polling, you can't go off of a day or two, but have to look at the recent trends. But we're two days into the new trend, and the market is headed in the expected direction. And it's only just begun.
But we know where it will end up....