by JASmius
Not by much - 49.9% to 48.1% for the Queen, and 65-58 in delegates - but this upper midwest industrial State isn't exactly lily-white, and Weekend Bernie went over its top anyway. That's yet another not-good sign for Mrs. Clinton that explains her continuing conspicuous displays of that acute lack of confidence in what the conventional wisdom keeps insisting is her "front-runner" status.
Here are the States she's won so far: Nevada, South Carolina, Alabama, Arkansas, Georgia, Massachusetts (a flat-footed tie like Iowa, minus the bogus coin-flips), Tennessee, Texas, Virginia, Louisiana, Mississippi.
All but two of them in the deep, heavily African-American South, and consequently by blowout margins - from 2-1 to
6-1
vote margins, as also last night in Mississippi, and 283 delegates, to be precise. Bottom line: If a State's Donk electorate has a significant black demographic, Hillary is going over.
But if it doesn't, the story's more than a little different.
Here are the States in Weekend Bernie's column: New Hampshire, Colorado, Minnesota, Oklahoma, Vermont, Nebraska, Kansas, Maine, Michigan.
All but two of this pile are lily white, and Colorado has a significant Hispanic population, a demographic in which Sanders is highly competitive. Which is what makes Michigan a breakthrough for him, as by these criteria that definitely qualifies as an upset win.
In terms of earned delegates, the communist revolutionary is only a couple hundred behind (745-540). If he can nose his way into more such triumphs and isolate Her Nib's strength to Dixie, he can take the race all the way to Philadelphia and set up the "Days of Rage II" superdelegate screwing scenario that could provide sidelined conservatives with a reason to pay attention to a general campaign from which we will have been long exiled.
Which brings us to the four GOP contests from yesterday in which we bring back the Knight Templar to sum it up: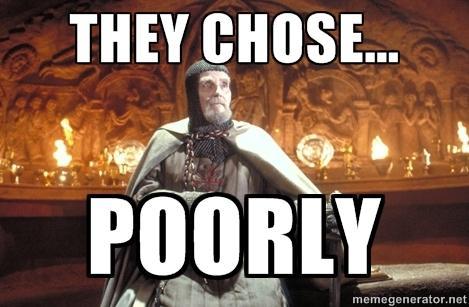 HAWAII:
Trump 42.4% (10), Cruz 32,7% (6)
IDAHO:
Cruz 45.4% (20), Trump 28.1% (12)
MICHIGAN:
Trump 36.6% (25), Cruz 24.8% (17), Kasich 24.1% (17)
MISSISSIPPI:
Trump 47.3% (24), Cruz 36.7% (13)
TOTAL:
Trump 38.8% (71), Cruz 30.4% (56)
Not a blowout night for The Donald, but a better one than last Saturday's quartet of contests, heading into the big winner-take-all bouts next week in Ohio (where Kasich might be able to stop him) and Florida (where Rubio - did you notice he got shut out last night? - won't). And since we're largely past what was supposed to be, and damned well should have been, Senator Cruz's evangelical stronghold in the South, which was the only way he could build a sufficiently large delegate lead to offset the inevitable Trump comeback in "bluer" States for which Senator Rubio was, as it's turned out, never going to contend, well....
Screw it. I'll hand off the baton to Jim Geraghty at this point. I've got better things to do (via today's
Morning Jolt
):
Our Eliana Johnson and Alexis Levinson give it to us straight:



Going into Tuesday's primaries, the last elections before the race enters its final and determinative phase when Ohio and Florida award 165 delegates on a winner-take-all basis next week, Trump's enemies had hoped to stall his momentum. In particular, they hoped that Ted Cruz, whose campaign is based in large part on his appeal to Evangelical voters, could throw up a roadblock in Mississippi, and that John Kasich could arrest Trump's momentum in Michigan.

Both Cruz and Kasich failed. And as they did, the slow death of the Republican party ground onward. Hope of preserving the conservative movement that has sustained it for nearly four decades diminished further.


This morning, Ben Domenech declares, "Republicans, you can have a Ted Cruz party or a Donald Trump party. Choose."

But they have chosen. More than 12.4 million people have voted in the Republican presidential primary so far. Donald Trump has won 4.3 million votes, or nearly 35%. Cruz won 3.6 million votes, or 29%. The arguments have been made, and the largest chunk of the Republican party has chosen to send the country to Trump University.

Sure, in the eyes of most conservatives who actually care about policy, Ted Cruz would be a much better nominee and president than Donald Trump. But at a time when enormous numbers of Evangelical Christians and Catholics are [Does this sound familiar from eight years ago? It damned well should] convincing themselves to see what they want to see in Trump, other factions of the Republican party - businessmen, veterans, federalists, judicial strict-constructionists, gun owners, school choice advocates - are likely to see what they want to see, too.
You think you're depressed now? We're just getting started:

It's not just primary voters. As Jonah points out, some one-time conservative philosophical and policy leaders have come to embrace ideas that they rejected just a short while ago, reflecting either a sudden and complete reversal in thinking or Chris Christie levels of political opportunism.



Consider Larry Kudlow and Stephen Moore. In August, the two legendarily libertarian-minded economists attacked Trump, focusing on what they called Trump's "Fortress America platform." His trade policies threaten the global economic order, they warned. "We can't help wondering whether the recent panic in world financial markets is in part a result of the Trump assault on free trade," they mused. As for Trump's immigration policies, they could "hardly be further from the Reagan vision of America as a 'shining city on a hill.'"

Months later, as Trump rose in the polls, Kudlow and Moore joined the ranks of Trump's biggest boosters -- and not because Trump changed his views. On the contrary, Kudlow has moved markedly in Trump's direction. He now argues that the borders must be sealed and all visas canceled. He also thinks we have to crack down on [Red] China.


Keep voting for the candidate you think is best, but recognize that the base of the party has been told that Trump lies all the time, and they've chosen to believe the lies. Building a wall will be easy. Trade tariffs will restore prosperity. He would never lie to me. I'm going to pick the right card in three-card monte. [emphases added]
"
For the time will come when they will not endure sound doctrine; but wanting to have their ears tickled, they will accumulate for themselves teachers in accordance to their own desires, and will turn away their ears from the truth and will turn aside to myths.
"
UPDATE: Hillary and Bernie both demolish Trump, according to
the latest NBC News/Wall Street Journal survey
:
Hillary Clinton or Bernie Sanders would handily defeat Donald Trump in a general election match-up, while a clash between [Mrs.] Clinton and Texas Senator Ted Cruz or Florida Senator Marco Rubio would be a toss-up, according to a new NBC News/Wall Street Journal poll.

The poll shows that Trump, who frequently boasts in interviews and campaign appearances that he would beat [Mrs.] Clinton in November, would lose a one-on-one contest against her by double digits. In a head-to-head fight, [Mrs.] Clinton gets the support of 51% of registered voters compared to 38% for the real estate mogul.

For Sanders, the margin of victory would be even greater, the poll shows.

The Vermont senator gets 55% support in a hypothetical two-person race against Trump, while the GOP front-runner would get just 37%.
What a sad coda for the Tea Party,
which is deader than some people want to admit
.
UPDATE II:
ABC News/Washington Post poll corroborates
:
Should this matchup come about, the current advantage is [Mrs.] Clinton's. She leads Trump by 50%-41% in vote preference among registered voters, her widest advantage in three ABC/Post polls since September. Among all adults, including those currently not registered, [Mrs.] Clinton's lead swells to 54%-36%. And the public by 59%-36% predicts that [Mrs.] Clinton would win — up from a twelve-point gap on this question in January to twenty-three points today. (Some political scientists suggest that, early on, expectations outdo preferences, predictively.)
It appears that the only ones who are taking Donald Trump seriously are slightly less than half of Republican voters. Would this constitute "going out in a blaze of YUUUUGE infamy" or just embarrassment? The latter of which Trumplicans are clearly no longer capable.